Leader in Valuable Microalgae
Marigan aims to be the leading supplier of valuable microalgae extracts to the pharmaceutical and cosmetic industries.
Prime Quality Microalgae Extracts
The new developed FFE technology enables Marigan to cultivate microalgae under optimized conditions with extraordinary growth rates. Marigan's unique harvesting and extraction process minimizes degeneration of these valuable natural agents, ensuring maximum performance and bioactivity.

Invented in-house and protected by Marigan, the Forced Flashlight Effect (FFE) Technology includes various unique designed equipment and brings about a revolutionary production process that provides optimum conditions for the cultivation of microalgae in accordance with the Calvin-Cycle.

The availability of prime quality natural agents in commercial volumes opens a entirely new world of possibilities. Marigan's natural agents enable the pharmaceutical, nutraceutical and cosmetic industries to produce high quality products, develop new applications and introduce new products to the global market.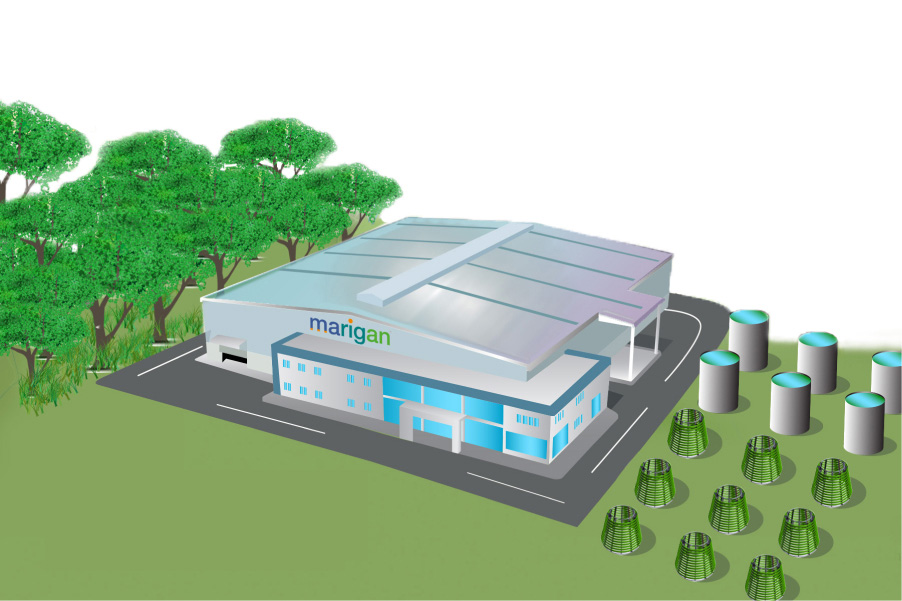 Pilot Plant Roll-Out
Marigan is currently in the process of setting up a pilot plant that will prove its revolutionary FFE technology. The pilot plant will validate the technology and processes that Marigan has developed. Successful pilot production will lead to Marigan rolling out a dedicated Production and Extraction plant.
R&D
The founders of Marigan have spent three years of extensive research and testing to develop the unique processes and technologies to cultivate various types of microalgae of a superior quality, in large commercial volumes. The end result is known as Marigan's FFE Technology and enables us to mimic optimal laboratory conditions on a commercial scale. In the medium term, Marigan will adapt and further develop its FFE Technology, and this will see the company enter two new markets by producing economical-grade microalgae, to be used as natural food coloring agents, and by producing tailor-made grades of new strains of microalgae for new-generation medicinal purposes.
Microalgae
Microalgae are microscopically small unicellular organisms that can grow up to 10 times faster than plants. Scientists estimate that more than 400,000 different species of microalgae exist on our planet. However, only 25,000 species have been identified, a mere 15 of which are in current commercial use. Creating the perfect conditions to cultivate microalgae has only been possible in small-scale laboratory setups. Through our revolutionary FFE Technology, we grow, optimize and transform microalgae under high-tech conditions, thereby delivering products of superior quality. Marigan cultivates microalgae in closed cycle photobioreactor systems, using sunlight as a photo energy source and carbon dioxide from the air as a carbon source, while nutrients, fertilizers and other ingredients are added by computerized injection systems.
Products